Ordering a repeat prescription
Repeat Prescriptions
Patients on regular medication are issued with computerised repeat prescriptions. Each time a new prescription is printed, a new request form is also attached for you to keep, in order to make your next request. Requests must be given in writing: they may be posted to us or delivered in person. We are not able to take repeat prescription requests by phone. Please allow three working days for your reviewed prescriptions to be processed, and five or more working days for other types of prescription requests.
Please press option 4 on the phone for  prescription queries
Download the NHS App or myGP App to order prescriptions, see above.
Or email the surgery direct: wkccg.prescriptions.bmmp@nhs.net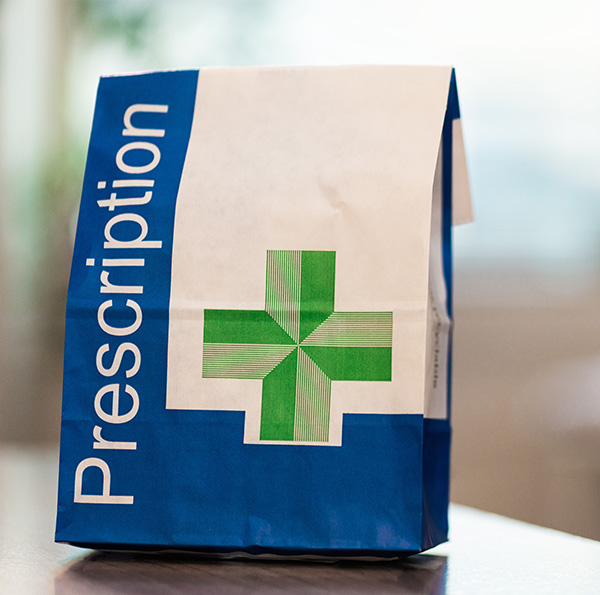 If you are collecting from your pharmacy please allow longer, 72 hours.
Prescriptions may be collected from the surgery. They can be posted to you if a stamped, self-addressed envelope is enclosed with the request. We can also forward the prescription to a local chemist for you, either printed or sent electronically (please ask at the reception for an information leaflet and further details).
Repeat prescriptions are reviewed every six months to one year and you may be asked to make an appointment with your doctor for a review when expired.
Chemists
The name of the duty chemist can be obtained from the local press, from IC24 (03000 242424) or from the police.
Hobbs Pharmacy, 1 Bower Mount Road                                                                                                                                                                                                                                                                                                                                                                                                                                                                                      Monday to Friday 9.00am – 1.00pm and 2.00pm - 6.00pm, closed between 1.00pm - 2.00pm
CLOSED Saturday and Sunday
Boots Pharmacy, King Street, Maidstone
Monday to Saturday 8.00am - 6.00pm 
Sunday 10.00am - 5.00pm
Boots Fremlins, Maidstone
Monday to Saturday 8.30am - 6.00pm
Thursday 8.30am - 8.00pm
Sunday 10.30am - 4.30pm
Morrisons Pharmacy, Sutton Road, Maidstone
Monday to Saturday 8.30am - 8.00pm
Sunday 10.00am - 4.00pm 
Closed between 2.00 - 2.30pm
College Road Pharmacy, Maidstone
Monday to Friday 8.30am - 7.00pm
Closed between 1.00pm - 2.00pm
Lloyds, Allington
Monday to Friday 9.00am - 5.30pm
Saturday 9.00am - 5.00pm
Link Pharmacy, King Street, Maidstone
Monday to Friday 6.00am - 11.00pm
Saturday 6.00am - 9.00pm
Lloyds, Grove Green, Maidstone                                                                                                                                                                                                                                                                                                                                                                                                                                                                                                Monday to Wednesday 9am - 6pm                                                                                                                                                                                                                                                                                                                                                                                                                                                                                            Thursday & Friday 9am - 6.30pm                                                                                                                                                                                                                                                                                                                                                                                                                                                                                              Saturday 9am - 5pm
Pre-Payment Certificates (PPC)
People in the following categories are automatically exempt from prescription charges: children under 16, those under 19 in full-time education and all patients over 60 years of age. It is sometimes worthwhile to buy a "season ticket" for pre-payment of prescription charges. Paying in advance for four months or a year may work out cheaper if you need six or more prescriptions in four months. For telephone advice and order line phone 0845 850 0030 or buy online: 
www.nhsbsa.nhs.uk/1127.aspx You must be a resident in England to purchase a PPC. The chemist will also advise you. Any unused tablets should be returned to the chemist for safe disposal. Do not give your medicine or tablets to other people, neither should you take theirs.
Dental Prescribing
UK and anecdotal GP reports suggest increasing requests from dentists and patients to prescribe acute or repeat medicines for dental conditions. The Medicines Optimizations Group (MOG) supports the view that dentists are usually best placed to assess dental problems, and should prescribe and monitor any medicines needed. If a dentist deems that a medicine is needed to treat the patient's dental condition, they should then prescribe or direct the patient to obtain that medicine via an appropriate route (which may include purchasing over the counter).
West Kent CCG classifies fluoride mouthwash, oral drops, tablets and toothpaste as not recommended or commissioned for primary care GPs. If these products are required they should be prescribed by their dentist on form FP10D, or on a private basis for private patients. This is to ensure that they are prescribed appropriately for patients following full oral health assessment, and only continued for the appropriate duration of treatment.
We use cookies to help provide you with the best possible online experience.
By using this site, you agree that we may store and access cookies on your device. Cookie policy. Cookie settings.
Functional Cookies
Functional Cookies are enabled by default at all times so that we can save your preferences for cookie settings and ensure site works and delivers best experience.
3rd Party Cookies
This website uses Google Analytics to collect anonymous information such as the number of visitors to the site, and the most popular pages.
Keeping this cookie enabled helps us to improve our website.